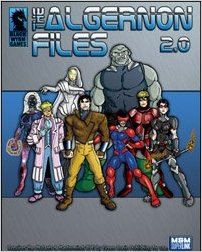 The Algernon Files 2.0 HERO System [Print+PDF]
The Algernon Files 2.0

For the HERO System Fifth Edition

The Algernon Files is a collection of characters, some friends, some most definitely enemies, that can be thrown into practically any supers campaign that's even remotely four-color. It captures a degree of modern sensibility in its character design, while keeping the silver and bronze age spirit. Face off against the likes of the supergenius Prometheus, or an ancient god made flesh in the form of The Serpent Queen; decide whose side Hell's Belles are really on, or trade blows with the mighty Magog -- and if you feel a little overwhelmed by all the hostile attention, relax by visiting Fortress, expansive HQ for potential allies The Sentinels (Tours of the museum and vendor areas are 2-5 PM, weekdays only, thank you), the third team to carry on the legacy of their name. Nazi supersoldiers terrorize Europe, while gangsters vie against mad scientists for control of the underworld. Masked mystery men and two-fisted adventurers bring justice into the darkest alleys and deepest jungles.

The Algernon Files, Volume II: The Golden Age is a sourcebook for the early days of the world of capes and cowls. At 256 pages, it includes over a hundred write-ups of characters on both sides of the fence, good guys and bad, as well as a dozen exotic locales, maps, and details on wartime equipment and vehicles.
---
We Also Recommend