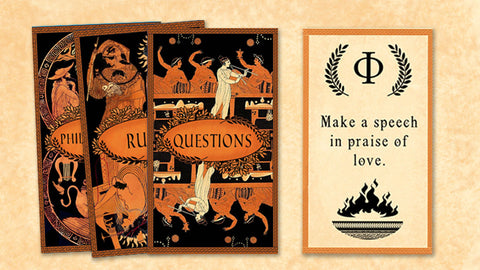 Symposium: A Game About Asking Questions
Symposium is a Descended From The Queen storytelling card game for 3-8 players, simulating a philosophical dinner party (or "symposium") in the classical style of the ancient Greek world and based on Plato's work of the same name, with some modifications to make it more accessible to a modern audience.

In the game you play guests at dinner party filled with interesting people: philosophers, poets, doctors, playwrights, and many others. All the best things in life are there: good food, wine, beautiful servants, and interesting conversation. You are a guest, and after you get comfortable your host makes a request of you: make a speech in praise of love. Every guest gives a speech, the contents of which are directed by a different metaphysical perspective. If your speech is the best one, the host will award you the relevant card.

After this initial round of play the role of host shifts, new perspectives are selected, and a new Question card is drawn by a new host; introducing the players to a variety of interesting questions. (What is is to be wise? What is courage? Why do I still love them?) Fresh speeches are given, and the card is awarded. Play continues in this manner until the You are drunk card is selected, at which point the game is over. The guest with the most cards at the end of the game not only wins, but is also the wisest.