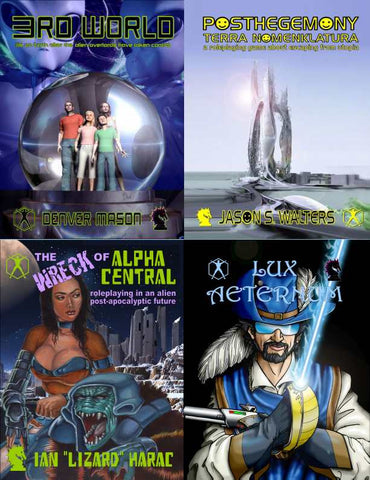 Project WyrmStar: Seven Settings For Star Hero Six Edtion [PDF]
$ 29.95

$ 29.95

Save $ 53
---
---
The year is 2011. Hero Games has just released it's award winning Star Hero supplement for the Hero System 6th Edition. In response, Blackwyrm Publishing crafted seven unique science fiction campaign settings to support it. They're collected here for the first time in a single place and priced to please the most frugal space ranger!

3rd World (by Denver Mason) finds you in the 23rd Century. Generations have passed where the Earth held not one, but many sentient species. The stars remain distant and, for most, inaccessible. It is on the Earth itself where colonists must craft their future. It is on this planet where the descendents of humanity must decide what of their past they hope to salvage. Wonders and terrors await them. Finally, the age of ashes has passed, and now comes a new world of clay that the brave and determined have a chance to shape. Earth is now used or ignored in turn. It is truly a 3rd World.

Lux Aeternum (by Dave Mattingly) is a cinematic science fiction setting that strives to evoke the romanticized spirit of the 17th Century Age of Exploration - a time of sweeping changes, social upheaval, and limitless opportunity. Action, drama, and grand adventure are key elements to any grand tale to be told in this setting. The absence of faster-than-light travel limits the playing field to a handful of star systems and allows this finite area to be fleshed out with a level of detail and complexity not possible in a galaxy-spanning saga.

Posthegemony: Terra Nomenklatura (by Jason Walters) is a unique science fiction setting designed to evoke the mood of films such as Logan's Run, The Island, and Idiocracy. Using a decision chart and guided by the game master, the players construct a spaceship and escape from the Posthegemony, a futuristic worldwide society loosely based on Chinese utopian ideals.

Terracide (by Grady Elliott) is a gritty, space opera noir. The Earth has been annihilated, leaving only the few thousand humans who were working in deep space alive. Those who have survived must not only continue the human race, but to discover who--or what--destroyed their home world. Players can chose from character Package Deals that include private eye, pirate, socialite, soldier, and many, many more.

The Fires of Heaven (by Pat Sweeny) presents the United Worlds, a human-led federation including two formerly less advanced alien races, for science fiction roleplaying using the Hero System 6th Edition rules. In the 23rd century, humanity has colonized 14 star systems radiating outward from Sol, from sophisticated core worlds such as the corporate-run industrial giant Hephaistos orbiting Alpha Centauri B to sparsely settled frontier worlds such as sun-scorched Anubis, filled with ruins of a fallen alien civilization, orbiting Delta Pavonis. The United Worlds have also made contact with three starfaring alien races, the mysterious Ethereans, trade-loving Jodoni, and hostile Vorn.

The Widening Gyre (by Bill Keyes) welcomes to the 19th Century that never was! It is a world of wonder, of horror, of adventure, of magic, of strange technology and unprecedented cultural revolution. This is an age that should have been, filled with radium-powered flying machines, clockwork automata, and steam-driven computers. It is an age of dark magic, sinister secrets, and unholy cults. It is a time in which the world teeters on the edge of chaos, where the enlightened scientific mind battled against ancient superstition and ignorance, in which the souls of all mankind hung in the balance.

The Wreck of Alpha Central (by Ian Harac) takes place in Ecumenopolis, the world city. Science fiction is full of them, from Trantor to Coruscant. But then it all stops working. What happens to a world of 40 trillion people when the food shipments stop and the lights go out?
---
We Also Recommend