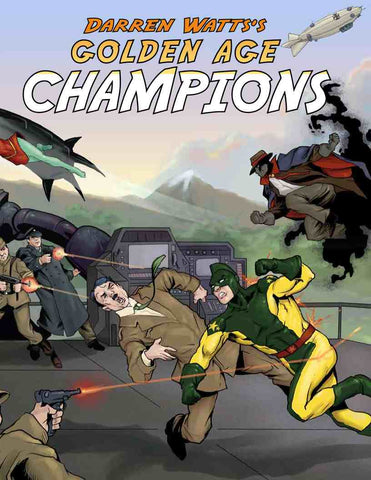 Darren Watts's Golden Age Champions [Print+PDF]
SMASH THE AXIS!
The Golden Age of Superheroes began in 1938, when a new kind of hero emerged from the pages of comicbooks in full color for a dime! Now you can experience high-flying adventure set in the days before, during, and after the Second World War, fighting for justice and freedom while armies march and cities burn!
Darren Watts's Golden Age Champions 6
th
Edition expands the Champions Universe back to the earliest days of the Modern Age of Heroes, and includes:
• a thorough examination of the Golden Age as a genre, with discussions of the types of stories, themes and characters appropriate to the period (and how and why to break those rules when you need to!)
• a detailed history and description of the world of the Golden Age, including a monthly timeline spanning from 1938 to 1949 covering Politics & War, Science & Technology, Arts & Entertainment, Life & Times, Crime & Weirdness, and the history of the Champions Universe!
• an extensive section on creating Golden Age characters, including a thorough discussion of archetypes, seventeen character templates, and information on Skills, Talents and Perks for the era.
• twenty-seven heroes and thirty-seven villains, from all sides of the war and every corner of the world (and a few other worlds besides!), along with information about the activities of characters from the modern Champions Universe during the period.
• the guns, vehicles and gear of the Golden Age, both real-world and madly scientific!
• advice on how to run long-term campaigns set in the Golden Age, from a GM who has 
run several that lasted for years!
So buy some war bonds, plant your Victory Gardens, and Keep 'Em Flying, Heroes!
(Note: Electronic version also contains character sheets for Savage Worlds and Mutants & Masterminds in a single Zip file!)
---
We Also Recommend