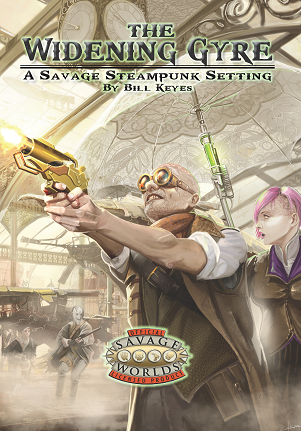 The Widening Gyre: A Savage Setting [Print+PDF]
Welcome to The 19th Century That Never Was!

It is a world of wonder, of horror, of adventure, of magic, of strange technology and unprecedented cultural revolution. This is the age that nearly was, filled with radium-powered flying machines, clockwork automata, and steam-driven computers. It is an age of dark magic, sinister secrets, and unholy cults. It is a time in which the world teeters on the edge of disaster, where the enlightened scientific mind battled against ancient superstition and ignorance, in which the souls of all mankind hung in the balance.

The Widening Gyre presents an original steampunk campaign setting designed for use with the Savage Worlds rules. Recommended for experienced GMs and players looking to game in the Industrial Age As It Should Have Been, this worldbook includes...

A comprehensive and immersive campaign background detailing the fantastical Victorian world of The Widening Gyre.

-Character archetypes to play a wide variety of 19th century adventurers − Airship Pirates, Clockwork Men, Consulting Detectives, and more!
-Rules for wild steampunk technology and sorcery, including weapons, armor, vehicles, bizarre Victorian devices, and magic spells.
-Full stats for dozens of characters the heroes will encounter on their journeys, ranging from helpful allies to evil technologists to monstrous beasts from a darker era.
-New Skills, Edges, and Hindrances.
-A full bestiary with over 40 monsters and opponents.
-A fully detailed campaign, six full adventures, and four variant campaign ideas.
-Nearly twenty Savage Tales, a dozen one-sentence adventure ideas, plus an easy-to-use adventure generator to help put together quick adventures on the fly.
-Enter a world of adventuring daredevils and academics, occultist thrill-seekers and Savants both heroic and insane, in which a secretive organization of benevolent technologists seeks to prevent the dark monsters of humanity's past from overwhelming its bright and burgeoning future
---
We Also Recommend