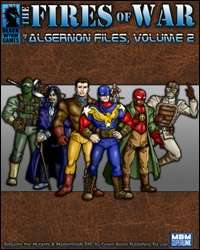 The Fires of War: The Algernon Files Volume 2 M&M
The Fires of War: The Algernon Files Volume 2

For M&M Second Edition

The fires of war burn on the horizon, and a world already short on hope desperately looks for heroes. Luckily, they don't have far to look. Welcome to the so-called Golden Age, where the first generation of superhumans in the public eye are forging legends that will live on long after they're gone. Nazi supersoldiers terrorize Europe, while gangsters vie against mad scientists for control of the underworld. Masked mystery men and two-fisted adventurers bring justice into the darkest alleys and deepest jungles.

The Fires of War is a sourcebook for the early days of the world of capes and cowls. At 128 pages, it includes over a hundred write-ups of characters on both sides of the fence, good guys and bad, as well as a dozen exotic locales, maps, and details on wartime equipment and vehicles.
---
We Also Recommend